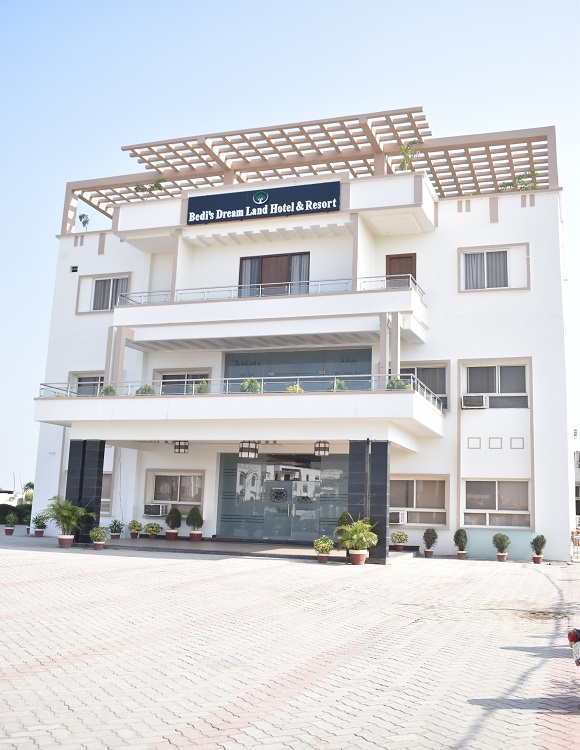 About Us
Welcome To Bedi's Dream Land Hotel & Resort
Bedi,s Dream Land hotel and resort was founded in the year 2014. The Hotel is located at the streamline of the Ayodhya District of Uttar Pradesh and currently operating as one of the best Hotel in the city. It has all the luxurious facilities and committed staff to serve you better, providing a home-like feeling and joy of admiring the historical city Ayodhya. The modular design of the hotel will make you more comfortable and happy. Explore the historical city of Ramayana epic in India with Bedi's Dream Land Hotel and resort, where you can experience a unique blend of comfort, efficiency, convenience, and affordability in warm, smart, and interactive social spaces at surprisingly affordable prices.

24
Modern Bedroom

2
Banquet Hall

1
Food & Restaurant
Best Hotel in Ayodhya
Modern Hotel & Room For Luxury Living
Bedi's Dream Land Resort & Hotel is the best Hotel in Ayodhya and has great accommodation, restaurant and hotel facilities.Bedi's Dream Land offers Wedding banquet in Ayodhya, Marriage Lawn in Ayodhya. The staff is professional, kind and helpful.
Our Services
We Provide Most Exclusive
Hotel & Room Services
Clients Feedback
Our Satisfaction People Say
About Our Services
Bedi's Dream Land Hotel & Resort, acclaimed as the finest luxury resort in India. It is the best hotel in Ayodhya, Ayodhya. Sprawling far acres of lush greenery and set in soul-stirring ambiance, The rooms are elegantly designed & well equipped with guest amenities .
RAPTOR BITE
The resort is located at strategic location of the highway and is near to the Ayodhya revered places of religious importance. They have got parking area, halls for wedding and engagement ceremonies, and enough rooms for guests accommodations.
Bipin Kumar Chaurasia
We really enjoyed our stay in this hotel. The staff is very professional and the rooms are very clean. We really liked the food in the restaurant, it was delicious. It give vibe to feel better. It can also booked for party's n others .
Marina Barbier
Tasty food items served hot. Very good services given promptly. Adequate measures taken for cleanliness at overall areas. All the staff are very friendly and service is really good. Love to visit again
Vilas shinde
Have A Coffee
Don't Hesitate To Contact With Us
NH-27 Near Saryu Bridge, Ayodhya